The Postman Only Dies Once by Dave Gilbert is the twelfth game in the Reality on the Norm series. It is a point and click graphical adventure game in the Adventure Game Studio engine, released on 11th November 2001.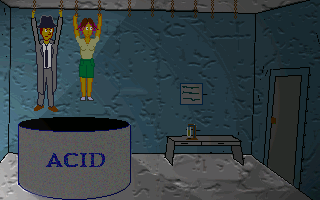 Synopsis
Edit
When Michael Gower is arrested for the murder of the postman, detective Max Griff takes the case to discover the identity of the real killer.
<tba>
Characters
Edit
Playable
Edit
Featured
Edit
Biggs
Crazy Homeless Weirdo
Davy Jones
Death
Dr. Die Vie Ess
George Watstatt
Michael Gower
Mika Huy
Phil Nihilist
The Sheriff
Vicks Vapourrub
Locations
Edit
<tba>
Continuity
Edit
External Links
Edit
Ad blocker interference detected!
Wikia is a free-to-use site that makes money from advertising. We have a modified experience for viewers using ad blockers

Wikia is not accessible if you've made further modifications. Remove the custom ad blocker rule(s) and the page will load as expected.