The First Stitch by Dylan Downing is the thirty-first game in the Reality on the Norm series. It is a point and click graphical adventure game in the Adventure Game Studio engine, released on 4th December 2002. It acts as the prologue to the "Tapestry" mini-series.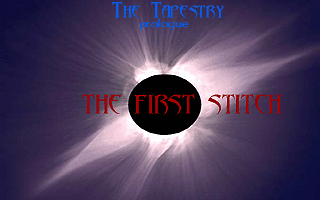 Synopsis
Edit
When a tear in space/time opens in Reality, Greyson is sent to close it.
Characters
Edit
Playable
Edit
Featured
Edit
Crazy Homeless Weirdo
Davy Jones
Despondent Banker
George Watstatt
Phil Nihilist
Locations
Edit
Featured
Edit
Dayist Cemetary (Entrance)
Dayist Cemetary (Right Side)
Jones House (Living Room)
Jones House (Upstairs Landing)
Jones House (Davy's Room)
Scid's Alley
Scid's Bar
Town Square
Yahtzeebrand Store
Continuity
Edit
External Links
Edit
Ad blocker interference detected!
Wikia is a free-to-use site that makes money from advertising. We have a modified experience for viewers using ad blockers

Wikia is not accessible if you've made further modifications. Remove the custom ad blocker rule(s) and the page will load as expected.